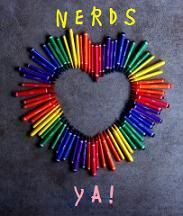 How's our
favorite bracket
challenge going? (see all our
Nerds Heart YA posts here
) They finished their
second round
and we are happy to report that
Jumpstart the World
(which we reviewed for the
first round
) has made it through to round three! You can check out the in-depth review from
Regular Rumination
here. We're excited to find out about another great book blog as well!
Congrats also to Antony John whose
Five Flavors of Dumb
(see our
interview here
) also made it through to the next round!
If you are searching for a book that has been flying under the radar but is totally worthy of a read, don't forget to check out the
short list
(all the books in the challenge)!
We're definitely looking forward to seeing what happens in the next round of challenges!
And because the idea of books going against each other in fight, really does makes us think of this, here's Jane Austen's Fight Club: