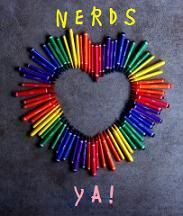 So, we're getting close to some exciting
Nerds heart YA
that are coming up!
On
June 27
, I'll be posting my choice between the two awesome novels,
Where the Truth Lies
by Jessica Warman and
Jumpstart the World
by Catherine Ryan Hyde.
Next Friday
(!) we will be bringing you an author interview with the authors of one of our favorites for this year. Antony John is the author of
Five Flavors of Dumb
(
see our review and book trailer
!). We are thankful to
Nerds heart YA
for connecting us!
Finally! They've got a contest for YOU to enter:
go here
to find out about the fantastic stacks of books that you can win. BUT ACT QUICKLY! The last day to enter the contest is
MONDAY
! Woah!