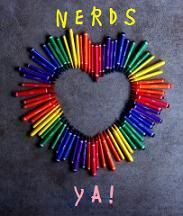 It's been a fun journey with
Nerds Heart YA
this summer. And now it's finally time for me to get my judges hat on.
You can check out the rest of our posts on this awesome bracket challenge
here
.
And you can see the other first round decisions
here
! We're so excited to see what's moving on to round two.
Alright, enough stalling, here comes the decision post:
Where the Truth Lies
by Jessica Warman
This is a hard book to talk about without giving away anything, because (as you might guess from the title) it's full of secrets. Emily is the daughter of the head of a boarding school. The school feels like a big family to her, sisters who you fight with and then get over it because you have to live with them and brothers who are mostly gross and annoying. During the day everything is calm and familiar, but at night Emily is plagued by nightmares of fire and water that no amount of counseling or sleeping medication can shake.
When Del Sugar starts at the school, midway through the year with a tattoo on his wrist, and a seriously troubled past, Emily gets swept up into a life-changing romance that her parents are desperate to break up. As she begins to question just why her parents are so against their love, she starts to see cracks in other things they've told her. Would you push to know the truth if it might mean the end to everything you thought you knew?
I loved this insider look at life in boarding school. The politics of sharing a suite and how gossip travels among floor-mates like oxygen. It was fun to catch a glimpse at how life among that many teenagers without their parents might look.
Another thing that I enjoyed was the fact that this wasn't a one issue book. It wasn't just about the consequences of Emily and Del's relationship or the lies that her parents have told, but one thing after another. There are several surprising twists where you think that Emily's life might be irreparably damaged
,
but she keeps going. Emily is an optimist and some one who you root for even when you want to shake her and make her see that the choices she's making are going to come back to haunt her.
Jumpstart the World
by Catherine Ryan Hyde
Elle is living on her own in her first apartment, but it's not the moment of independence that most teens dream of because she hasn't just graduated from college, in fact she hasn't even graduated high school. Her sixteenth birthday is still a week away and Elle has the keys to her own apartment because her stepfather has decided he doesn't really want to live with a teenager, and her mother, as usual, decides to side with him.
So now Elle is alone. Well, not quite alone. There is a one-eyed cat, bought with her mother's guilt money. And then there's Frank, a neighbor next door with a kind face. At her new school there are a few people who want to sit with her at lunch and walk in the hallways with her. These teens are so different (and vulnerable) that Elle is worried about what they see in her that would make them want to hang out with her. When her new friends bring to light the fact that Frank has a lot in common with them, Elle has to figure out if she's brave enough to embrace the ones she loves or will she take the easy way out and go back to being alone.
I loved this book. Catherine Ryan Hyde's writing is so sparse, it's like every word was chosen with purpose. Elle is as skittish, scared, and hurt as her one-eyed cat and you just want to tell her that it's okay to trust some people. Her journey to figure this out for herself is one that I didn't want to end.
The other thing that I loved about it was that all the characters were so human. No flat characters or black and white situations. It reminded me a bit of another favorite, Debbie Harry Sings in French.
Elle is opened up to a new world of people who live and love but have to defend their right to do so every step of the way. I wanted more time with Wilbur and the Bobs, with Shane and Molly and especially Frank. That's the true sign of a good book- when you want another book for each of the supporting characters. It's a book that breaks your heart and still manages to leave you with hope at the end.
This was a hard choice. I can see why both books should make a list like this one, and hooray Nerds Heart YA for shining a spotlight on them. But
Jumpstart the World
was the one that blew me away, both for the writing and the cast of characters. I hope you'll check them both out and tell me if you agree with my decision. But yes,
Jumpstart the World
is moving on to round 2!