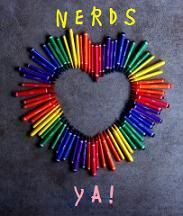 So, as
you may recal
l
we are really excited about the "
Nerds Heart YA" book tournament!
I'll be one of the first round judges, and you'll be able to see my decision between two books on June 27, mark your calendar now!
But before we get to that, the shortlist of books in the tournament was announced today! You can see the
full-list here
.
It's an awesome list. As promised there are a ton of books on here that definitely haven't gotten enough love and lots that I'm adding to my To-Be-Read pile immediately.
Some of the ones on the list that we already love are:
Five Flavors of Dumb - Antony John
A Love Story Starring My Dead Best Friend - Emily Horner
When The Stars Go Blue - Caridad Ferrer
Take a look at the list and let us know what you're excited to see on it and what books you want to take a closer look at!