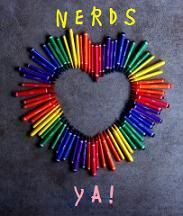 This summer, I am really thrilled and honored to be a judge for the
Nerds heart YA
book tournament! It's set up to bring attention to books that may have slipped through the cracks and totally deserve to be picked up by teens and people who love young adult literature.
This year the award is all about diversity. The books that will be nominated for the tournament have to a) be published in 2010 and b) showcase a character who fits into a category that is often overlooked in literature- like:
Person(s) of Color (POC)
GLBT
Disability
Mental Illness
Religious Lifestyle
Lower Socioeconomic Status
Plus-size
The shortlist will be out soon (and we'll be sure to share it with you!) and in June I'll get the two books that I will be comparing! Keep it here this summer to see how this bracket tournament turns out!
For now, we can only guess and hope which books will make it on the list.
What do you hope to see on the list??